Safe, Efficient and Accurate Excavation
Services - Hydro Excavation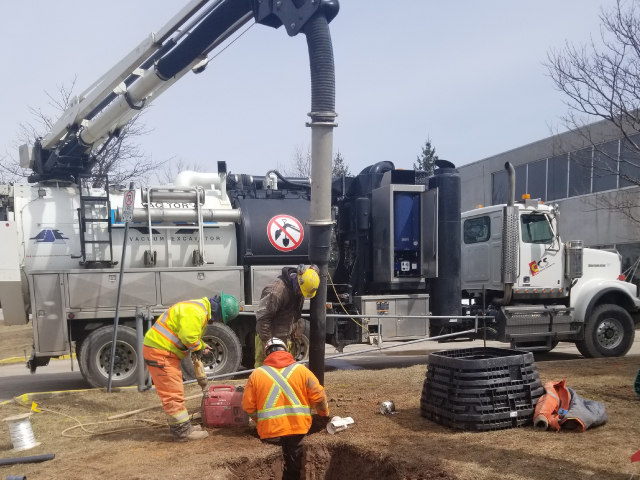 Hydro excavation is a non-mechanical, non-destructive process that uses pressurized water and a high strength vacuum to simultaneously excavate and remove soil. As the pressurized water breaks up the soil it then is removed by a powerful vacuum into a debris tank. This method is used to protect underground infrastructure and excavate in a safe and timely manner.
All of our operators are fully trained in every aspect of underground excavation as well as the safe operation of these units. Some of the benefits include:
Efficient: hydro excavation is fast and able to access difficult locations
Precise: hydro excavation digs precise shaped and depths, minimizing the impact to an area
Cuts restoration time and costs with being able to localize the location required for your excavation.
Year-round excavation: with boilers which create hot water this makes hydro excavation available even on the coldest days of winter
Enables safer mechanical digging: hydro excavation safely exposed buried infrastructure which are lined out by locates
Ontario's Leading Telecommunications Construction Services Provider
Over Thirty-Five Years Experience
Cable Control Systems (CCS) has been helping some of Canada's largest networks and service providers develop their telecommunications infrastructure since 1985.
Four Locations Across Ontario
Corporate Headquarters
Cable Control Systems Inc.
2800 Coventry Road
Oakville, Ontario
Canada L6H 6R1
Our Other Locations
North York, Cambridge & Barrie
Contact Us Today
Email:
Main: 905-829-9910
Locate Dept.: 416-642-3111